Testing the Electrode Quality - with the Sandwich Test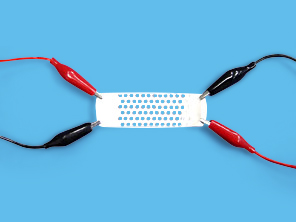 The quality of all electrodes can be tested very simply using the Sandwich Test: you stick two electrodes together on the gel side, attach the terminal pair of the hand and foot cables to the two lugs opposite, and in this configuration (see photo) you take a measurement with the BIA unit.
The lower the resistance values, the lower the unwanted inherent resistance of the electrode will be, and the better suited the electrode will be for BIA measurements.
The measured resistance R shall be less than 30 Ohm: the reactance Xc shall be less than 1 Ohm.
Further Informations about Electrodes